Senior Associate Scientist, Process Development - Downstream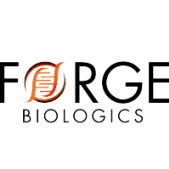 Forge Biologics
Columbus, OH, USA
Posted on Tuesday, August 29, 2023
About Forge
Our mission at Forge Biologics, is to enable access to life changing gene therapies and help bring them from idea into reality. We partner with innovators in the gene therapy community: scientists, physicians, biotech/pharma companies, and patient groups. We bring expertise in gene therapy manufacturing and therapeutics development to the table, helping to champion teams that are navigating the long road from the lab bench to the bedside. Our goal is simple but vital to patients living with disease, and we take it seriously. With a patient-first approach, we are forging new models for working together to better accelerate these transformative medicines to reach those who need them the most.
Forge is based in Columbus, Ohio, in a 200,000 square foot facility known affectionately by team members as, the Hearth. The Hearth, is a custom-designed cGMP facility dedicated to AAV manufacturing and hosts scalable, end-to-end manufacturing services.
About The Team
The Downstream Process Development Department is responsible for refining and optimizing the purification and characterization processes for Adeno-Associated Virus (AAV) vectors. The team focuses on developing scalable and efficient downstream processes that enable the isolation, purification, and formulation of high-quality AAV vectors. The team utilizes state-of-the-art technologies and analytical techniques to ensure the removal of impurities and contaminants while maintaining vector integrity and potency.
About The Role
We are currently seeking a Senior Associate Scientist, Process Development - Downstream to join the Forge Biologics team. This is an exciting opportunity to assist in the execution of laboratory experiments and protocols for downstream process development efforts. The candidate will assist in process development protocols/studies to optimize procedures for unique viral vector platform process and to assist in the transfer of client programs.
What You'll Do
Assist with overall maintenance of the production and testing facilities. This includes but may not be limited to performing quality systems checks, buffer preparation, autoclaving of media, packing of biohazard material, monitoring or sanitizing equipment, preparing facility for production campaigns, and periodic cleaning of incubators, centrifuges, FPLCs, biological safety cabinets (BSCs), and other equipment.
Culturing cells, performing transfections and/or infections with seed vectors, harvesting and lysing cells, and purifying vectors using density gradients, FPLC, or other techniques
Provide support in the receipt and distribution of incoming raw materials for research, preclinical, and clinical manufacturing.
Unpack reagents, maintaining proper cold storage, restock supplies in storerooms or laboratories.
Quarantine and prepare incoming raw materials intended for preclinical or clinical manufacturing for inspection and release.
Assist in maintaining proper inventories of raw materials and consumables.
Prepares formulations and raw materials as specified in protocols without the introduction of contaminants.
Prepare sterile reagents as dictated by procedures or management by filtration or steam autoclaving.
Maintains clean work environment in all work areas.
Reports any discrepancies from protocols/study procedures or any materials preparation problems to management.
Delivering results in a high paced environment
Package and ship finished product to clients in accordance with procedures and regulations.
What You'll Bring
Bachelor's degree in Biology, Molecular Biology, Virology, Biochemistry or related discipline
Practical experience with FPLC (Fast Protein Liquid Chromatography)
Experience with other aspects of downstream purification (e.g. – clarification/filtration, TFF, etc.)
Preferred Skills
Experience with lab, pilot, and large-scale FPLC systems.
Experience with the purification of vaccines or viral vectors.
Experience with the production of biologics and performing bioassays.
Work Environment and Physical Demands
This position works in both a laboratory environment and typical office environment where the physical work demands will vary depending on the specific tasks and duties required of the job. The employee will be stationary (standing/sitting) for extended periods of time. Employees regularly wear personal protective equipment based on the task being performed. Must be able to work in a confined space, such as a clean room or laboratory environment. Ability to identify small details within the field of vision, distinguish between different colors, and accurately identify objects within a specific area.
This job description is not designed to cover or contain a comprehensive listing of activities, duties or responsibilities that are required of the employee. Duties, responsibilities and activities may change or new ones may be assigned.
Forge Biologics is an equal opportunity employer dedicated to building an inclusive and diverse workforce. Forge Biologics, provides equal employment opportunities to all employees and applicants for employment and prohibits discrimination and harassment of any type without regard to race, color, religion, age, sex, national origin, disability status, genetics, protected veteran status, sexual orientation, gender identity or expression, or any other characteristic protected by federal, state or local laws.
Life at Forge
We are a team of diverse, driven and passionate people working together to trailblaze a new model for how we make medicines to treat patients with genetic diseases. Our team members use their creativity and talent to invent new solutions, meet new demands, and offer the most effective services in the industry. Forge's core values lay the foundation for H.O.P.E. It provides us a common purpose that we all understand, work towards and live by.
H

ARDWORKING -

We work hard and smart, making a persistent and determined effort toward success. Working hard, with focus and desire is the key.

O

PEN - We strive to be approachable, actively listen and encourage others to contribute and speak up. We positively offer and receive constructive feedback.

P

URPOSE DRIVEN - We are passionate about working towards and delivering on our mission to manufacture gene therapies.

E

NGAGED -

We are fully absorbed by and enthusiastic about our work and take positive action to further Forge's vision,

mission

and goals.
We've Got You Covered
We take the health and happiness of our employees seriously and are consistently evaluating new ways to make our benefits truly UnFORGEttable.
Health, Dental, and Vision insurance that starts on your first day at Forge, with 90% of premiums covered for team members as well as dependents

Unlimited PTO (plus 14 paid company holidays)

Annual bonus for all full-time employees

Equity-incentive plan
401(K) company match
Fully-stocked kitchen with free food/drinks
12 weeks of paid parental leave - additional discount programs include childcare support & dependent care
Employee Assistance Program
Wellness benefits (financial planning services, mental health counseling, employer paid disability)
Professional & Personal development resources - LinkedIn Learning, a dedicate training staff in-house, mentoring opportunities & access to leadership development coaches