AAV Bioprocessing Manufacturing Intern - Summer 2024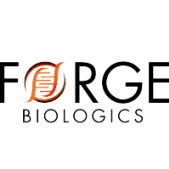 Forge Biologics
Grove City, OH, USA
Posted on Tuesday, September 12, 2023
About Forge
Our mission at Forge Biologics, is to enable access to life changing gene therapies and help bring them from idea into reality. We partner with innovators in the gene therapy community: scientists, physicians, biotech/pharma companies, and patient groups. We bring expertise in gene therapy manufacturing and therapeutics development to the table, helping to champion teams that are navigating the long road from the lab bench to the bedside. Our goal is simple but vital to patients living with disease, and we take it seriously. With a patient-first approach, we are forging new models for working together to better accelerate these transformative medicines to reach those who need them the most.
Forge is based in Columbus, Ohio, in a 200,000 square foot facility known affectionately by team members as, the Hearth. The Hearth, is a custom-designed cGMP facility dedicated to AAV manufacturing and hosts scalable, end-to-end manufacturing services.
About the Role
Forge Biologics is seeking an AAV Bioprocessing Manufacturing Intern to join our 2024 Ignite Internship Program. In this role, you will have the opportunity to be trained on the bioprocessing manufacturing processes by industry leaders, contribute to the execution of manufacturing life-changing gene therapies for human use, and provide hands-on support for new technologies and systems in our GMP manufacturing facility. You will also gain experience in the clean room environment, utilize automation, and identify areas for efficiency improvements.
What you'll do:
You will learn how to optimize biological processes, utilize bioreactors and chromatography systems, and gain exposure to automation in the clean room environment

You will gain hands-on experience within the biotech industry including upstream (cell culture and virus production), downstream (harvest and purification), and fill finish techniques

You will execute procedures assuring quality, safety, efficacy, and purity of drug products
What you'll bring:
You are a current sophomore or junior currently enrolled in a full-time bachelor's degree program from an accredited college or university with a 3.0 minimum GPA or equivalent

You are studying biology, life sciences, chemistry, engineering, or a related field

You are a self-starter, detail-oriented, collaborative, and organized

You have experience following detailed instructions in the laboratory or work environment

You are inquisitive, like to solve problems, and identify areas for process improvement
Why you'll love it:
You'll work on meaningful and relevant projects while gaining experience in the biotech industry

You will develop professionally through bi-weekly intern programming including networking with Forge leaders, career management workshops, and exclusive intern community events

You will be mentored by Forge department leaders and supported through a network of Forge employees
Forge Biologics Ignite Internship Program is designed to provide meaningful experiences in a professional environment while giving our interns the experience to network with Senior Leadership and peers through a variety of activities and events. During the Summer Internship Program, you will work on real business issues/projects and learn from industry leaders. Our interns will work onsite at our offices in Grove City, OH (just 15 minutes from downtown Columbus, Ohio).
Work Environment and Physical Demands
This position works in both a laboratory environment and typical office environment where the physical work demands will vary depending on the specific tasks and duties required of the job. The employee will be stationary (standing/sitting) for extended periods of time. Employees regularly wear personal protective equipment based on the task being performed. Must be able to work in a confined space, such as a clean room or laboratory environment. Ability to identify small details within the field of vision, distinguish between different colors, and accurately identify objects within a specific area.
This job description is not designed to cover or contain a comprehensive listing of activities, duties or responsibilities that are required of the employee. Duties, responsibilities and activities may change or new ones may be assigned.
Forge Biologics is an equal opportunity employer dedicated to building an inclusive and diverse workforce. Forge Biologics, provides equal employment opportunities to all employees and applicants for employment and prohibits discrimination and harassment of any type without regard to race, color, religion, age, sex, national origin, disability status, genetics, protected veteran status, sexual orientation, gender identity or expression, or any other characteristic protected by federal, state or local laws.
Life at Forge
We are a team of diverse, driven and passionate people working together to trailblaze a new model for how we make medicines to treat patients with genetic diseases. Our team members use their creativity and talent to invent new solutions, meet new demands, and offer the most effective services in the industry. Forge's core values lay the foundation for H.O.P.E. It provides us a common purpose that we all understand, work towards and live by.
HARDWORKING - We work hard and smart, making a persistent and determined effort toward success. Working hard, with focus and desire is the key.
OPEN - We strive to be approachable, actively listen and encourage others to contribute and speak up. We positively offer and receive constructive feedback.
PURPOSE DRIVEN - We are passionate about working towards and delivering on our mission to manufacture gene therapies.
ENGAGED - We are fully absorbed by and enthusiastic about our work and take positive action to further Forge's vision, mission and goals.